Equine | 5 March 2020
Life after the track…
Did you know that there are between 14,000 – 15,000 Thoroughbreds registered in training within the British horseracing industry at any one time and approximately 4,000 - 5,000 horses retire from racing every year?
Guest Blog Written by Gillian Carlisle Chief Executive of the BTRC
In 1991, the Thoroughbred Rehabilitation Centre (TRC) was established to help some of these retiring horses to be taught new skills in order for them to have a second career in equestrian. The TRC was the UK's first charity dedicated to retired racehorse welfare through rehabilitation, retraining and rehoming to ensure protection for life. To celebrate the charity's 25th anniversary in 2016, the TRC evolved and became The British Thoroughbred Retraining Centre (BTRC). The BTRC is now a centre of excellence, not only for the retraining of Thoroughbreds, but also as an education hub to ensure best practice is maintained in this ever increasingly popular area of the equestrian industry.
At the BTRC we aim to help as many horses as possible each year to be rehomed, these horses either come straight from the racing industry from race owners, who wish to ensure 100% traceability for the entire life-span of their horse. It is a simple process which involves the owners relinquishing ownership and gifting the horse to BTRC straight from the racing stables.
Alternatively some horses may enter the BTRC via the Charity's vitally important vulnerable horse programme. These horses have been less fortunate. Some may have been retired for many years and are struggling, or have fallen on hard times in the equestrian sector and have been evaluated as potential being 'at risk' due to welfare issues. For these vulnerable horses the BTRC uses their charitable donations to support the horse through the rehabilitation, retraining and rehoming programme. The BTRC therefore offers a safety net for any Thoroughbred that may be found in an unfortunate state and requires care from our professional team of grooms / riders, vets, physio's and farriers.
Any horse gifted to the BTRC will give their previous owner peace of mind knowing that the Charity will provide their horse with a safe and secure future. No BTRC horse is ever sold but instead offered on a permanent loan so when a horse is rehomed, ownership always remains with the BTRC to ensure care for life.
Assessment
Before the rehoming process can start all the horse are assessed by the BTRC consultant vet, Gordon Sidlow BVMS MRCVS, to ensure that they are suitable to enter the retraining unit (RTU). This process will help identify any pre-existing racing injuries which will enable the BTRC to create an individual rehabilitation plan specific to that horse. The BTRC has a specialized rehabilitation unit and a dedicated and skilled rehabilitation supervisor who ensures each plan is correctly followed and the horse's progress is monitored carefully. Once fully recovered then the horse can start their training towards a useful and rewarding second career.
Retraining
The retraining programme consists broadly of three stages adjustment, development and further training. The exact time in each stage varies for individual horses depending on their strength, age, amount of time on the track, attitude and general temperament, pre-existing injuries and most importantly whether it has come straight from racing or already has an equestrian background.
Adjustment - Horses will quietly start to adjust to the new surroundings. They slowly begin the transitional process both physically and psychologically in relation to workload, feed, routine, stable management and riding requirement. At the end of this stage, we hope to have achieved a solid foundation to build upon. The horses should have undergone a behavioural change with regards to daily routine. Their feed should be adjusted for general riding rather than racing, and they should be quiet and relaxed while being lunged or ridden. At the end of this stage, the horses should have settled in and work well in their walk, trot and canter and be able go over poles on the ground.
Development - During this stage, we expect a little more from each horse and try to establish an awareness of pace, outline, rhythm and balance with the guidance of the rider. The horses should feel completely relaxed and be able to trot over poles on the ground as well as small fences.
Further Training - At this point we hope to increase the horse's knowledge and confidence, strengthen parts of the body relevant to the tasks asked of the horse and focus on conditioning the horse towards advanced work such as lateral gaits and jumping. Not every horse is capable of the further stages of retraining and those horses happy with a basic level of retraining go on to pleasure and hacking homes.
The progress of all horses is monitored regularly in assessments, whereupon the natural talents and specific requirements of each horse are highlighted. These will determine where the horse can be re-homed after being retrained successfully.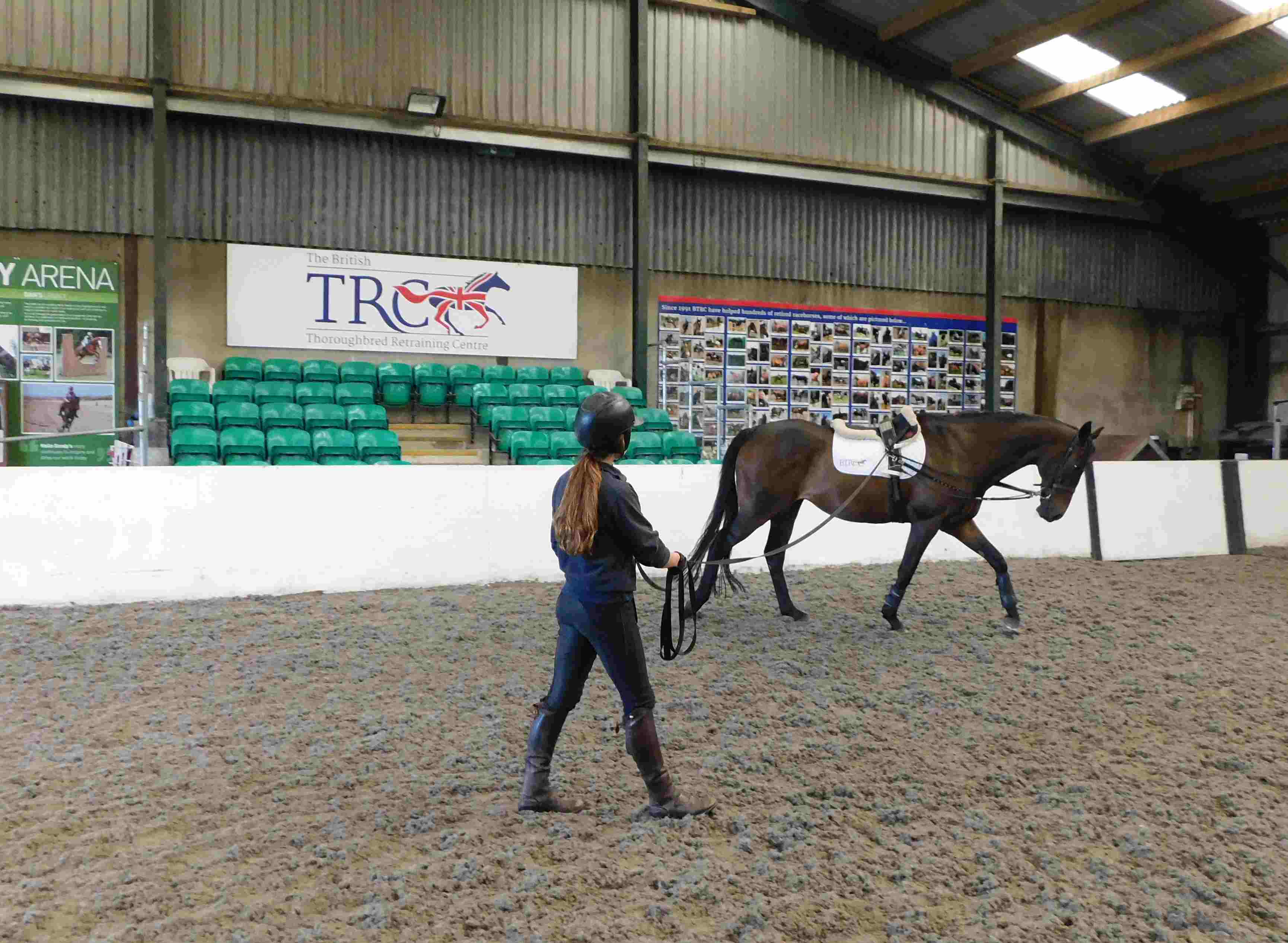 Re-homing
The loan process is very thorough, and we work hard to find each loaner their perfect match. All horses have been retrained to an appropriate standard and are capable of carrying out the level of work required by their new loaner. All horses are thoroughly vetted, including; vaccinations, dental checks and back radiographs. All information about the horse is disclosed to the loaner including past injuries or conditions. Once the perfect match has been found, a support network is in place if any assistance or advice is required throughout the duration of the loan. We understand that circumstances can change, and loaners may not be able to keep the horse for life, in which case the horse can be returned to the Centre to ensure their future is secure.
However, many of our horses find forever homes and go on to have valuable second careers, such as show-jumping and dressage, giving joy to hundreds of riders young and old. The BTRC have successfully loaned hundreds of horses around the UK.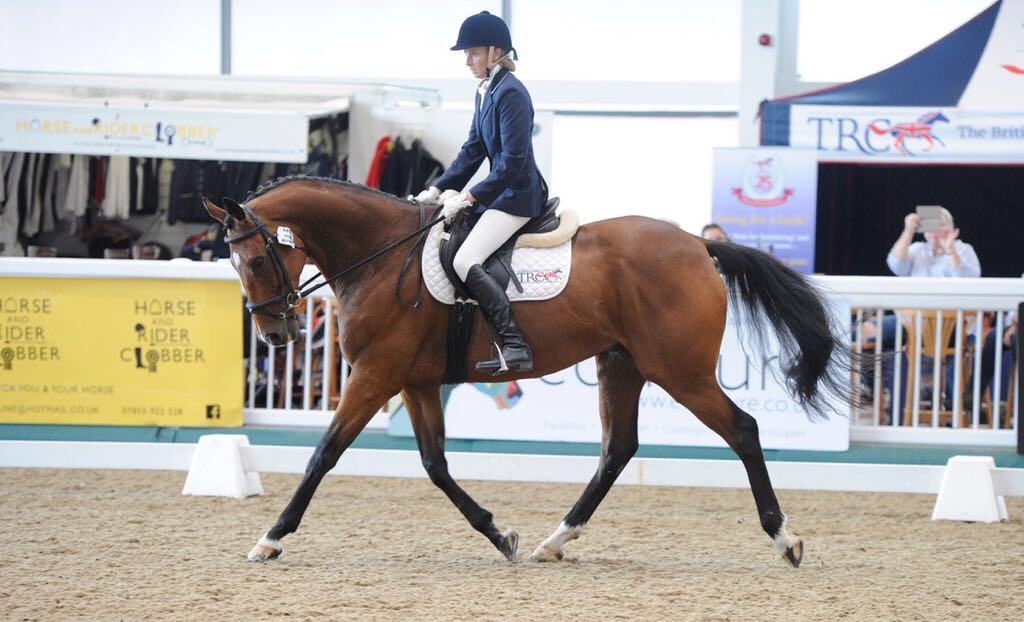 Lister & BTRC
We are delighted to have become an ambassador for Lister, as the Charity are always striving to make sure all our horses get the best treatment possible and to do so we need equipment we can rely on. Before each horse gets rehomed we make sure they are looking their best, meaning some horses will be clipped. Lister clippers make sure the horse receives a professional clip which doesn't take the girls on the yard hours to achieve. The Star clipper is lightweight which is ideal for carrying around the yard, but also makes clipping easier as they are not so heavy on your wrist when clipping.
Thank you for taking the time to read about our work, if you would like to find out more please visit our website www.thebtrc.co.uk or follow us on Facebook 'The BTRC'.
Get in touch

ADDRESS
UNITS 3 & 4 BRUNEL WAY
STROUDWATER BUSINESS PARK
GLOUCESTERSHIRE GL10 3SX
STILL LOOKING FOR SOMETHING?