Equine | 15 March 2020
Hayley Reynolds Native Pony Specialist
Hayley Reynolds is a native pony specialist as well as a panel judge on the fell pony society, New Forest Pony Society panel as well as the SSADL, Puk Gold M&M, NCPA and TSR panels.
Not only does Hayley judge, she also competes, attending all national shows and qualified for RIHs, HOYs and Olympia which are located all over the UK.
Hayley is part of Lister Elite and has been for several years and is a great addition to the Lister team. Hayley is a qualified children's social worker but keeps her own ponies, alongside client's ponies, for showing and let's not forget her show pug!
She began riding at the age of four and has been riding ever since. She owns 6 ponies, all native, consisting of mainly fell ponies and a couple of new forest ponies. She also has one fell breeding mare and breeds under her own 'Reyncroft' stud prefix. As if Hayley wasn't busy enough she also jockeys and prepares other people's native ponies for the show ring.
In 2018 Hayley won Royal International Horse Show (RIHs) with her Exmoor stallion, Dunkery Wigeon, then went on to win Horse of the Year show 2019 (HOYs) with her new forest pony, Okedene Justin. Hayley has also been listed in the 'Top 10' and 'Best of Breed' on every appearance with a variety of native ponies at Olympia. She has qualified with many different native ponies for RIHs, Hoys and Olympia and her own fell stallion, Drybarrows Advocate, was overall Mountain and Moorland Champion 2019 at the Royal Highland Show.
During clipping season, Hayley clips a minimum of three ponies a week - often more between September and March. Hayley currently uses the Liberty Lithium popular pack which she says are lightweight, hardworking and durable. The Lister Liberty is one of the most versatile machines available using a re-chargeable power pack with a waist belt. The addition of the new Lithium battery makes the very popular Liberty even more desirable. The Lithium battery provides up to 2.5 hours of clipping time from just 4 hour charge, offering consistent performance on the go.
Hayley also has the Adagio trimmer, but her favourite Lister product is the Covercote blade. Hayley said she wouldn't be able to manage without them and relies on them for ensuring her ponies look their absolute best all year round for the show ring. The Covercote is ideal for clipping areas of the animal that need extra protection, such as the legs, as it leaves a longer coat where necessary. This blade is suitable for use with all Lister Clippers.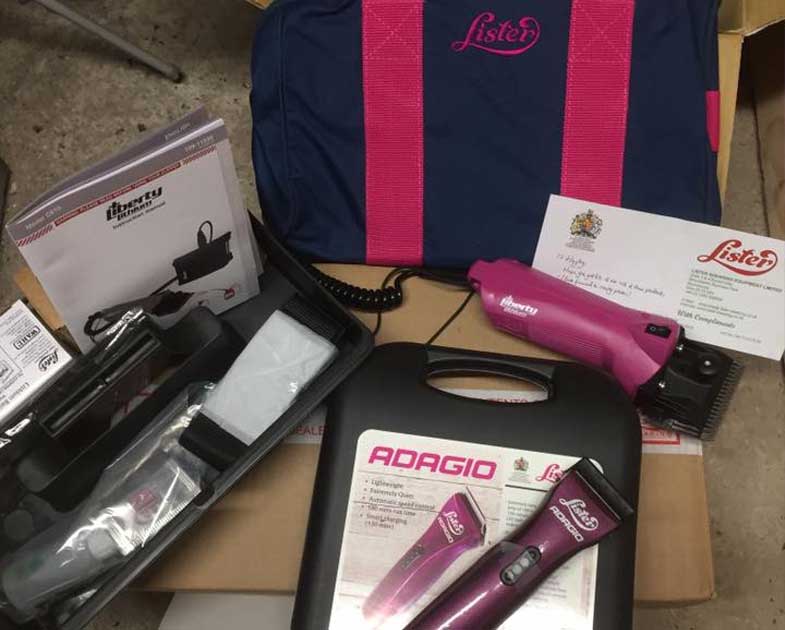 Hayley can often be spotted at most shows wearing her Lister jacket, while her ponies show off their Lister rugs!
If you want to follow Hayley's riding career or see her latest clips, visit her Facebook page here -https://www.facebook.com/hayleyreynoldsclipping/
Get in touch

ADDRESS
UNITS 3 & 4 BRUNEL WAY
STROUDWATER BUSINESS PARK
GLOUCESTERSHIRE GL10 3SX
STILL LOOKING FOR SOMETHING?