Equine | 4 March 2021
Trimming Up
Whether you've packed up your horse clippers for the year or not, trimmers can be a great tool to provide an extra level of detail to allow you to always impress. But how can you use them to their full potential?
If you are looking to perfect your clip, neaten up those lines and bring out some of your horse's amazing features, then we would recommend investing in a trimmer, there are endless possibilities!
We understand that not every owner will want their animal trimmed to a show ring finish, but most owners like to keep their animals looking nicely turned out. Before you go straight into trimming and clipping it's also important to consider the breed of your horse and the classes you intend to compete in, as this can determine if and how you trim your horse. It's best to check with the breed society first before doing anything drastic!
Shop Our Trimmer Range
Cleaning Your Trimmer
Like clipping, keeping the surface of your blades clean is an important aspect, as you minimise the risk of skin irritations but also allowing them to glide through with ease! You can keep your blades clean by taking them off the trimmer, then using the brush provided to remove any hairs that remain. Use the bristles of the brush to work in between the blade and comb.
Next, you'll want to clean out your trimmer head, so use the brush to sweep out any hairs that may be left. Then, you should have a spotless trimmer.
All of our trimmers come with blades that have a snap-on technology, allowing for a quick and easy release. To release, firmly press in the opposite direction to the way they are facing. To put the blades back onto your trimmer, follow these steps:
Open the blade hinge on the clipper – this is usually sticking out, but sometimes it does get pushed shut. If it is shut, use a flat head screwdriver to lever back up carefully.
Turn the clipper on, so that the drive lever is moving. Slide the back of the blade onto the protruding metal hinge.
With the clipper still running, push the blade back into place. This sometimes can be quite a firm push especially when the machine is new and the mechanism is stiff.
Having the clipper running whilst putting the blade on the hinge will help the drive lever fit into place correctly.
As you would when using a clipper, oil your blades frequently to ensure good lubrication with our R15 Clipper Oil. A couple of squirts on the cutting edge and in the gaps between the trimmer head and blades will be perfect.
Please note, these blades cannot be sharpened, and must be replaced when their time is up! Shop Trimmer Blades
Uses Of The Trimmer
Trimmers work great in those awkward areas where clippers can't reach, such as under the jawline, ears, whiskers and on the feathers on the back of the legs.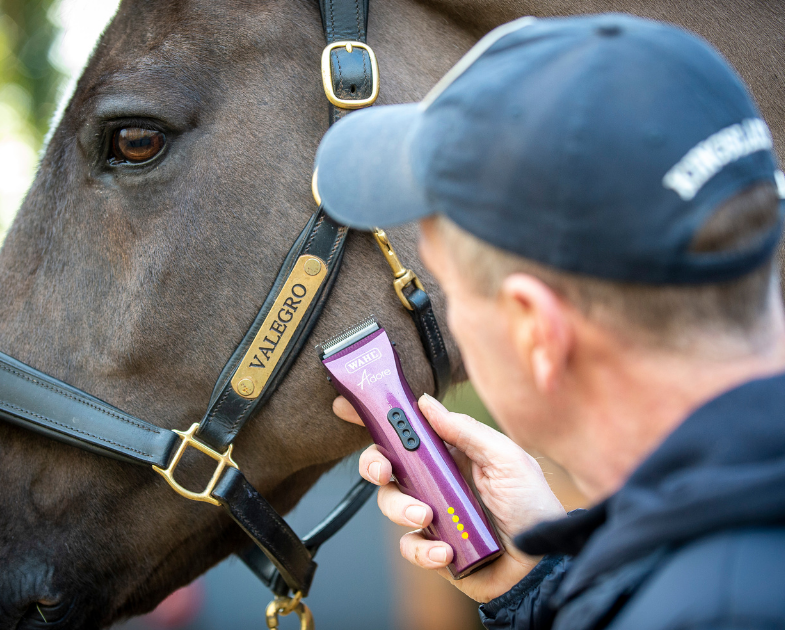 Often, the thicker feathers on the legs can be a hiding spot for infections, ticks and mites, so a trimmer is a perfect tool to work around these sensitive areas. We recommend that a regular trimming routine is kept up in the summer months to keep these areas neat so that these pesky ticks and mites can be spotted easily!
Watch this video from our #ListerPro Ambassador RS Equine where she shows how trimmers can be used to thin out the thick feathers on your horses legs.
Many horses are afraid of clippers and the ticklish vibrations that they give off, and often become clipper-shy. It is never worth forcing them to be clipped, so a trimmer is a perfect way to get them used to being clipped due to their lightweight and low vibrations.
STILL LOOKING FOR SOMETHING?